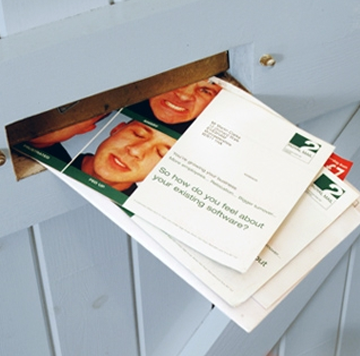 Whether it be a simple letter, or a direct mail piece, the tangibility of holding and feeling something adds sincerity and a connection that digital just doesn't provide. So here are 4 reasons why direct mail s is still the best marketing venue out there today!
1. Direct Mail Stands Out & Gets Read
Direct mail undoubtedly catches people's attention, whether it is due to the vivid colors, or the tangibility from the delivery of the message itself.  In fact over 98% of households bring in their mail the day it's delivered, and 48% of people retain direct mail for future references.
2. Emails are Overwhelming and Quickly Discarded
People's virtual inboxes are littered with spam and unread messages, and the problem is only getting worse; according to a recent study over 70% of emails received in peoples inboxes are considered spam.  With more and more businesses choosing email, the problem of spam and email marketing is only getting worse, not better. Meanwhile direct mail marketing is becoming more popular than ever. In anotherrecent study, researchers found, "Direct Mail Outperforms All Digital Channels Combined By Nearly 600%".
3. The Content and Context Is Stand Alone
It's easy to unknowingly discard a website link, online banner, or digital advert, and to confuse the advertising piece amidst the chaos of the message it was delivered from online. Although online advertising allows you to reach many people at scale, it also eliminates the context and focus of the content itself. Direct mail is designed to be stand alone; creating context via the piece it was delivered on and content via the material and message featured. There are no extra ads or irrelevant information being displayed, simply the message and medium it was delivered on! Perhaps this is why a new research report found direct mail to be considered more "Authoritative" and "Informative" by consumers.
4. People Are Engaged & Act
Unlike online advertising, you aren't fiercely competing for people's attention and reaching for engagement and action that comes later down the road. New studies indicated that the average attention span for online users is now less than 9 seconds. Meanwhile in stark contrast,research has found that people spend up to 30 minutes just reading their mail alone. This gives direct mail a very strategic and important advantage; allowing you to connect with your audience and deliver your message in a much more meaningfully and engaged manner. Additionally, if you're not convinced enough already, the Howard Hunt Group also conducted a study that found that, "Mail measured 16% higher than email in terms of neurological response for engagement".  And finally, and perhaps most importantly, it was also found by theUSPO that, "40% of consumers try new businesses after receiving direct mail". In other words, if you deliver the right message, to the right people…they take action!
These were just a few examples of why direct mail is still creating such great results in our digital world.  That being said, at Resource Solutions we take pride in knowing that the marketing services we deliver don't just look great, but yield great results! Our time tested methods have enabled us to become Industry leaders; enabling financial professionals to achieve success in their marketing efforts! If you are currently struggling to get in front of enough qualified potential new clients, feel free to contact us today to see how we can help improve your marketing results!
---